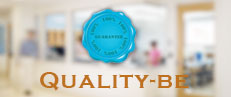 STRATEGY of QUALITY
Omnimabs is invested in Quality. We pride ourselves in designing products that meet high Quality standards as well as building robust processes to ensure that we meet our customers' requirements every time. Our goal is to exceed customer expectations by providing the best products, services, support, quality and innovative solutions.
With over 10 years of experience as a leader in manufacturing immuno products, Omnimabs's focus on quality is unrelenting. To be a market leader we have to make an unconditional commitment to quality –be it in terms of development, manufacture or service.
+ COMPANY + SUPPORT
Search the catalog number from any major antibody supplier/brand in the search bar above. The search engine will return OmnimAbs products for these targets.